Minibus Hire Knock Airport
Minibuses are usually available for rental from Knock Airport – but they can get booked up at busy times of the year.
If you have a large party – it can be easier and cheaper to hire a minibus instead of two cars. Most minibuses will seat 9 people and take luggage too. A minibus can be great for a large family or group of friends on holiday or on a family visit to relatives.
A common 9 seater minibus is the VW Caravelle another is the Mercedes Vito. You can expect to pay around £1100 a week for a 9 seater minibus at Knock Airport during the peak summer season
Car Trawler promises to find you the best price car and minbus hire at Knock Airport – and at any other location in Ireland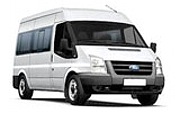 Anyone with a regular driving licence can hire and drive a minibus in Ireland (as long as you are not charging passengers ). You don't need a special licence for a minibus or small vans.
Minibuses MPVs and People Carriers and some small vans are usually available for hire at Knock Airport – but demand for these vehicles is very high. Booking well in advance is recommended to avoid disappointment